How to Buy Mid- and Lower-Body Football Pads
Football is a full-contact sport. Make sure you're ready this season with girdles, rib protectors and pads for your pants.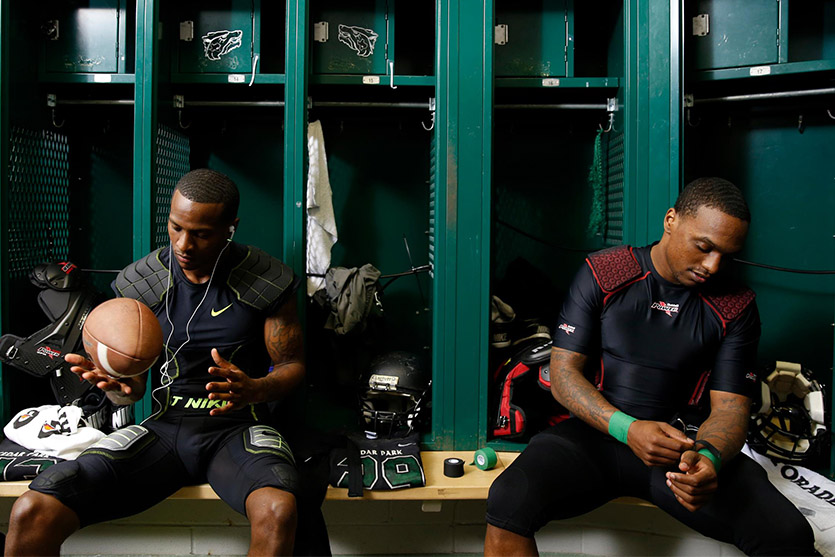 The action on the football field can be rough and tumble. From squaring off with a lineman in the trenches to going head to head with a ferocious linebacker, the sport has a level of physicality few can match. That's why having the proper protection is essential.
Most football fans may be familiar with larger, more noticeable protective gear like helmets and shoulder pads. But there are smaller pads that are just as important. These include protection for your midsection and lower body.
Pro Tips is here to help make sure you're fully padded before hitting the gridiron this season.
LOWER BODY
When it comes to lower-body padding, you'll need two thigh pads, two knee pads, two hip pads and one tailbone pad.
MATERIALS AND FEATURES
The materials used in lower-body pads, like thigh and knee pads, are lightweight like foam and durable plastics. These pads are comfortable, yet dependable enough to help shield you on impact. These pads also feature ventilated grooves. This can help circulate airflow so that you can stay cool when the action heats up.
Some pads come dipped in a vinyl coating. These pads tend to be heavier, making them better for multi-purpose positions and linemen. Quarterbacks and skill players will want lighter pads that won't get in the way of mobility or weigh them down.
"SNAP-ON" OR "SLIP-IN"?
Some football pants require you to buy separate pads. These come in either a snap-on or slip-in style.
Before you buy pads for your football pants, you should know the difference between the two:
Snap-on: You'll simply connect the pads onto the inside of your pants for added security.
Slip-in: You'll place the pads into the pockets attached to your football pants for a secure fit.
Keep in mind you can buy most of these pads in bulk. Not only is this more affordable, but it's also easier to check off your list of equipment needs.
INTEGRATED FOOTBALL PANTS
A convenient option for lower-body protection is going with integrated football pants. This style of pants comes with pads already sewn in. Integrated pants have lightweight padding in the thighs, knees, hips and tailbone. Constructed of EVA foams, these pads help protect from collisions on the field. All players need to do is put these pants on and focus on scoring the game-winning touchdown.
Remember: It's important to make sure your integrated football gear fits correctly. The padding must cover the appropriate areas. If it doesn't, it may not work as designed.
FOOTBALL GIRDLES
Football girdles can house hip pads and a tailbone pad. Like pants, some girdles come in either a slip-in or snap-on variety. Check to see which option your girdle has before buying lower-body pads so you can make the correct purchase. Girdles are available in both youth and adult sizes.
Some styles come with padding sewn in. This can be a convenient option. These girdles combine padding and compression in a single piece of equipment. They can also feature breathable fabrics to keep you cool through the fourth quarter. Learn more about this style of integrated compression gear with DICK'S Pro Tips.
MIDSECTION PROTECTION
Depending on your position, you may want to invest in either rib protectors or a back plate. These provide added protection around your midsection.
FOOTBALL RIB PROTECTORS
Rib protectors feature cushioned foam padding that surrounds your lower abdomen. They offer protection for both your ribs and lower back. Rib protectors are lightweight and have comfort in mind. They come with ventilation slots to help manage moisture and create breathability. These pads are ideal for quarterbacks, as passing the ball can leave their ribs exposed.
An alternative to rib protectors is a padded base layer. These compression shirts fit securely underneath jerseys and shoulder pads. They offer upper-body protection with padding in the shoulders, ribs and back. The shirt's compression fit can lessen resistance and doesn't hinder mobility. These integrated shirts also feature technical fabric. This helps the apparel feel lightweight and breathable as you push the pace.
Should you go with a rib protector or an integrated compression shirt? That comes down to personal preference. However, both options should provide protection to the midsection while you're playing.
Most rib protectors and integrated compression shirts come in youth and adult sizes, as well.
FOOTBALL BACK PLATES
Back plates feature foam padding encased in a plastic shell to help protect your lower back. They're usually attached to and hang from the back of the shoulder pads. Back plates can be great for running backs, defensive backs and wide receivers.  These positions run the chance of an opponent tackling them from behind. Back plates are lightweight, easily removable and come in youth and adult sizes.
Being protected on the gridiron is essential from youth leagues to the pros. Now that you know what to look for in football pads, you'll be ready to take the field in your new suit of armor.