Five Things to Consider When Registering for a Marathon
Running a marathon for the first time can be intimidating. Make sure you know what to expect before you register.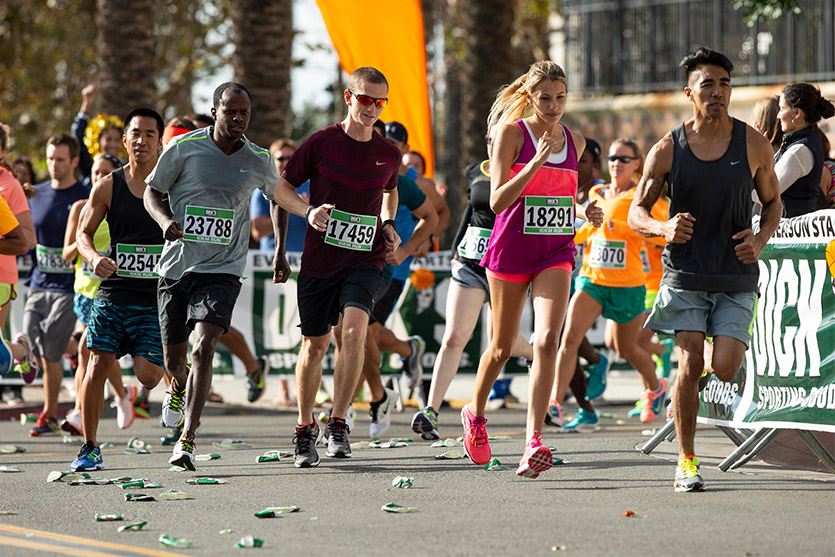 You've decided to challenge yourself by running a marathon. But before you go online and register for the race, there are some things you should be mindful of. Running a marathon for the first time can be a big commitment. Aside from marathon training, you'll also have to consider your time, diet, health and even finances.
Pro Tips breaks down the main things to know while prepping for your first marathon.
SETTING A GOAL
According to DICK'S Sporting Goods Associate Autumn Greba, the first thing you should consider when choosing a marathon is your goal. Greba, who is a collegiate coach and former Division I runner, says that goal could be as simple as completing the marathon or as focused as finishing under a certain time.
"For any first-time marathoner, I think it makes sense to have a goal, but to also be very aware that you should just enjoy the process at the same time," Greba says.
Hitting that goal is not the end-all, be-all. Setting a goal can also help shape your training for the marathon. Greba says when you finally get to the start line, focus on having a good time.
TIMING
Training for a marathon is no simple task. It can take a good chunk of your schedule to prepare for the race. In most training plans, the longest run before a marathon is around 20 miles. And depending on your plan, your average weekly mileage is at least 20 to 30 miles. On top of that, most marathon training plans involve cross-training. Some runners cross-train with exercises such as biking, yoga, swimming, strength training and walking. These workouts can take a big chunk of your time.
Endurance runner and DICK'S Sporting Goods Associate Kristie Johnson suggests using a planner to help you realistically map out your training. This will help you determine if you'll have enough time to fully train. Be mindful of adjusting your schedule for your runs. Will you have to wake up early or do you have time in the evening? Will you still be able to hang out with friends and family or will you need to scale back to make room for training?
"Do make sure [you] have training time plus wiggle room," Johnson says. "We're all human and things come up, so add a couple weeks to your plan just in case."
The other time element you should consider is the date of the race. If the marathon takes place in the spring, you may be doing a lot of running indoors during the winter. If the race is during the fall, you should prepare to run during the summer heat. Make sure you're ready for your training environment with these helpful training guides: Tips for Running in the Rain, Tips for Running in the Heat, Nighttime Running Tips and How to Train in Winter.
TRAINING FOR A MARATHON
Training is one of the most important factors to think about when running a marathon for the first time. It can be a very long and strenuous activity, so it's important to prepare yourself physically and devise a plan.
"Your plan should fit your current fitness level, not a level you would eventually like to be at," Greba says. "For example, if you've never run a step in your life, please don't go straight into a 70-mile-per-week plan."
Whether you're a beginner or advanced marathoner, check out the Pro Tips Marathon Training Plans for Every Runner to help you start training.
You can also train with a friend or consider joining a running group to work out with. Some marathoners even have coaches to help keep them on track.
"Find a buddy to [train] with you or a supportive friend or partner to help you through the journey," Johnson says.
HEALTH 
Endurance events like a marathon can take three to seven hours on average depending on your fitness level. Not only can the actual race put a lot of strain on your body, so can the training. Because of this, Greba suggests consulting a doctor before you start, especially if you've never been a runner.
You may have to consider your diet before signing up, too. Make sure you're getting enough energy and staying fueled during your runs. Also, don't eat heavy meals before a run or workout.
"I just become more diligent about drinking water," Johnson says. She also suggests scaling back and limiting alcohol consumption.
FINANCIAL CONSIDERATIONS
Very few things in life are free. There is typically an entry fee when you sign up for a marathon. That can range anywhere from about $20 for a small community race to about $300 for a big city marathon. Beyond that, there are other costs and expenses you should consider.
If the race is out of town, you have to plan for travel and stay. There is also the cost of your running gear. You can reference this Pro Tips checklist on marathon clothing and essentials. Some runners will even spend money on a coach or running group to help them train.
"Be cognizant of what you're spending and keep track," Greba says. "Don't go broke for a marathon."
Running a marathon for the first time can be daunting, but with these things in mind you're already a step ahead. Discover more insights on running a marathon with this Pro Tips must-read advice for running your first marathon.