Choosing the Right Softball Glove
Let these Pro Tips give you a hand in finding the best softball glove for you.
When it comes to finding the right softball glove or mitt, there are many questions that may come to mind. Is there a difference between fastpitch and slow pitch gloves? How do softball gloves vary by position? What are the benefits of different web styles? This Pro Tips softball glove buying guide will help answer all those questions and more.
PARTS OF A SOFTBALL GLOVE
Every element of a softball glove serves a purpose. Understanding glove anatomy can help you meet your needs on the field. Take a closer look at the parts of a softball glove.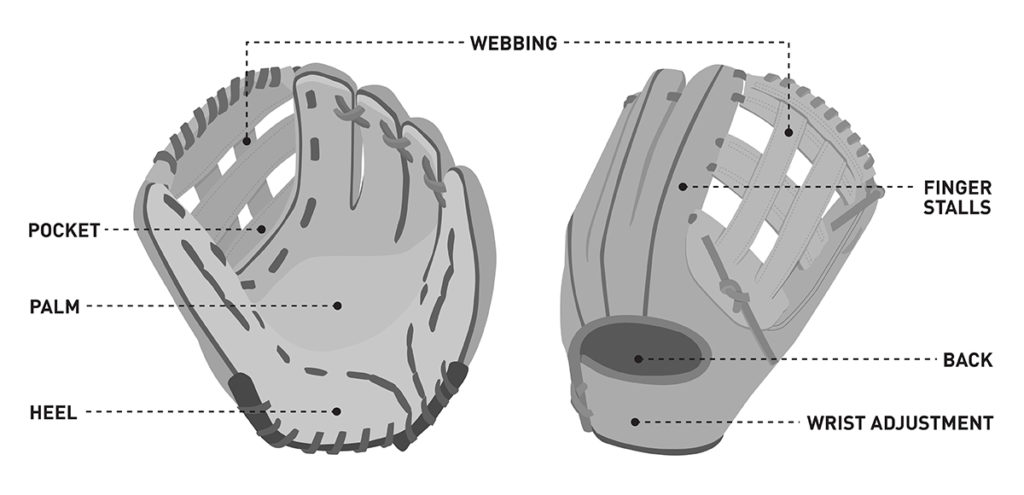 Webbing: The web design of your glove is key in ball control. Webs have two main styles: open or closed. The one you choose will depend on your position and preferences. Fielders typically like an open web, while pitchers prefer a closed web to hide their pitches.

Pocket: Like the web, pockets help connect the fingers and thumb for ball control on impact. In general, infielders prefer a shallow pocket, while outfielders opt for a deep pocket.
Back: The back is the space for your index finger. There are both open and closed designs. Open backs have a larger space for more hand and wrist flexibility. Meanwhile, a closed back features a smaller hole for added stability.
Finger stalls: Finger stalls are the openings on a glove for your fingers.
Palm: The palm of your glove has padding underneath the leather for impact protection.
Heel: The heel is the lower part of the glove that protects the bottom of your hand.
Wrist adjustment: A wrist adjustment is a feature that allows for an optimal fit. They come in a variety of styles, including lace adjustments, D-ring fasteners, buckle systems and hook-and-loop fasteners.
MATERIALS
The material of your glove can affect its feel and durability. Common materials include:
Synthetic: A lightweight option popular with youth players. Synthetic gloves are easy to close right from purchase.
Pigskin and cowhide: These standard leathers range from medium to heavy in weight. They break in faster than premium leathers and are ideal for younger players.
Kip leather: A type of lightweight cowhide. This material is popular among youth players and allows for mobility and range of motion.
Full-grain hide leather: Full-grain leather is standard for Pro Series gloves. They require more of a break-in process but offer superior performance and durability.
Steerhide leather: Steerhide is the heaviest material used in softball gloves. Although they are among the toughest to break in, these gloves are strong and durable.
SOFTBALL GLOVE WEB TYPES
Web styles are either open or closed. However, there are a variety of types within each of these categories. You may choose a different web type based on your position. Popular styles include:
FIELDERS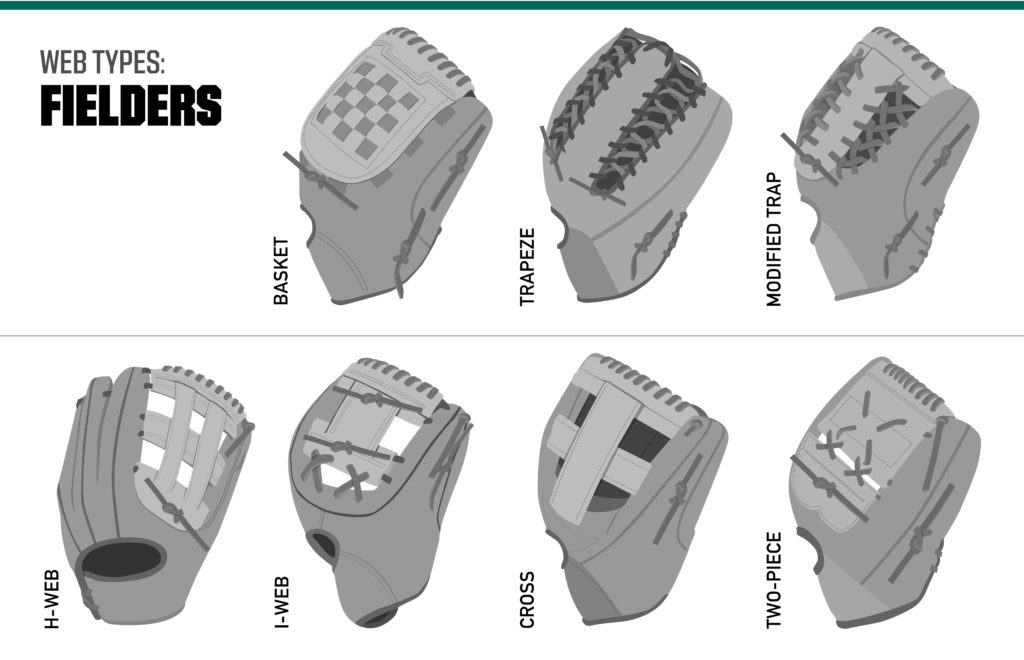 Basket: The basket is a closed web commonly used by pitchers. The basket-weave style allows for more flexibility.

H-Web: This style gets its name from two strips of leather that create an "H" shape. H-webs are open, flexible and popular among both outfielders and infielders.
I-Web: The I-Web is an open style in which the web forms the letter "I." They have a shallow pocket and are popular among infielders.
Trapeze: The trapeze style is commonly used by outfielders and has one of the deepest pockets.
Modified Trap: Multiple positions use the modified trap. The strip of leather at the top adds a layer of structure and support.
Two-Piece: Two-piece webs are a closed style with two strips of leather laced together. Strong and durable, this design is great for helping pitchers to conceal the ball.
Cross: The cross web is an open style that allows for maximum visibility.
FIRST BASE

Single Post: This popular web type for first base mitts allows for flexibility and visibility. It features two strips of leather across a vertical post.

Modified H-Web: Similar to the classic H-Web, this modified style features an added top piece for a larger catch radius.
Dual Bar: Dual-bar webs have two horizontal bars stitched together to form a pocket. This aids in trapping the ball.
CATCHERS

Half Moon: Half-moon webs form a tight pocket with a small amount of visibility. They are more flexible than fully closed models.
One-Piece: As the name implies, this web has one large piece of leather that laces around the outside of the pocket.
HOW SHOULD A SOFTBALL GLOVE FIT?
The fit of your softball glove is crucial to your ability to catch the ball or transfer it from the glove to your hand. For proper sizing, measure from the tip of your index finger to the start of your wrist in inches. Your glove should have a snug fit. So, choose a size that currently fits your hand and not one that you think you can grow into.
Catcher's mitts will have the largest circumference, while first baseman's mitts are the longest. Infielders will want a shorter length for ease of transferring the ball from their glove to their hand.
FASTPITCH VS SLOW PITCH GLOVES
Before purchasing a glove, consider whether you're a fastpitch or slow pitch player. Slow pitch players, especially catchers and pitchers, may prefer a larger glove to accommodate the size of the ball.
Meanwhile, the best fastpitch softball glove will need a strong leather to adapt to wear and tear. Learn more about the difference between fastpitch and slow pitch softball gloves.
SOFTBALL GLOVES BY POSITION
Choosing a softball glove or mitt that's appropriate for your position can help you reach the top of your game.
 Pitcher's glove: Pitchers will want to look for a closed web design with a deep pocket. This can help you control your grip and avoid tipping your pitches. Take the mound with confidence with the help of this Pro Tips guide on how to choose a softball pitcher's glove.
Catcher's mitt: When it comes to how to choose a softball catcher's mitt, the focus is on mobility and control. Softball catcher's mitts typically have open webs to accommodate the size of the ball.
Infielder's glove: A shallow pocket is preferred to help with an infielder's quick release. Softball infielders also favor a closed design for a more secure catch. Before taking the field, discover more tips on how to buy a softball infielder's glove.
Outfielder's glove: Outfielders will want to look for a deeper pocket to catch fly balls. Some players prefer an open web for increased visibility. However, others like a closed web for more support. Get ready to track down fly balls with these Pro Tips on how to choose a softball outfielder's glove.
First baseman's mitt: A first baseman's mitt is typically longer than other softball glove types. It can have a shallower pocket than a catcher's mitt to allow for faster ball transfer.
Now that you know how to find the best softball glove for you, it's time to put it to use. Help keep runs off the board with these Pro Tips on proper softball fielding techniques.