Hockey 101: Suiting Up For The Ice
Hockey is a fast-paced, hard-hitting sport, complete with sharp skates and a frozen puck. Make sure you have the hockey protective gear needed to take the ice this season.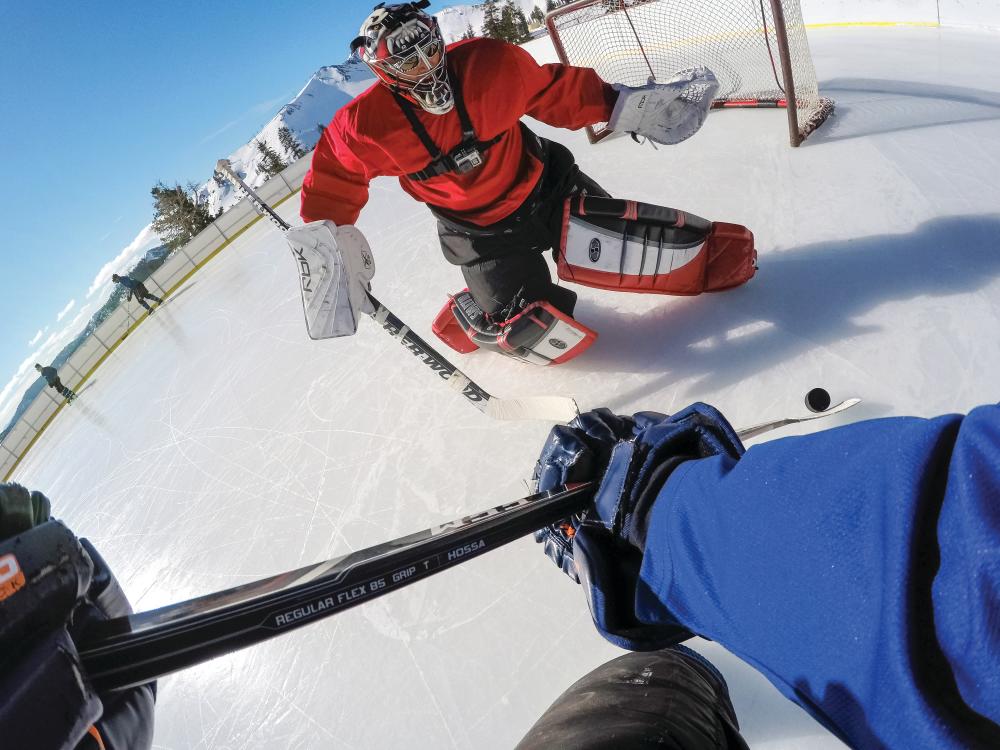 Before you take the ice, you've got to get the right gear.  Use our recommendations to make sure you've got everything you need, from opening faceoff to the final whistle. Keep in mind this hockey protective equipment guide covers gear for every player except goaltenders. Take a look at our article on how to buy hockey goalie equipment for more.
HELMET & FACEMASK 
Hockey helmets are required at all levels of hockey. Hockey helmets are typically available in a one- or two-piece design, with the two-piece design offering a more customized fit. Inside of each helmet is a liner that helps absorb impact while enhancing comfort—safety experts recommend padding that is at least 5/8 inches thick.
Unless you're a pro, your helmet will need to have a face mask—they are required up through the collegiate level. There are three main types of masks:
Wire cages consist of a metal or composite shield that covers the entire face area. Wire cages provide more protection and do not fog up like face shields.
Face shields feature impact-resistant plastic that covers the front of the face. Some players prefer face shields because they provide better overall vision.
Combination masks offer the best of both styles, with a clear plastic shield to cover the upper part of the face and wire mesh to protect the lower jaw and add veniation.
SHOULDER PADS 
Hockey shoulder pads provide protection for the collarbone, upper chest, upper arms and, of course, shoulders. Choose the amount of padding you need based on your position and style of play:
Forwards may prefer lighter-weight pads that offer more freedom of movement.
Defensemen should look for larger pads that provide ample protection for shot blocking.
Pad sizing is available according to body type. To find your size, wrap a tape measure around your chest just below your armpits. You can then use the following chart as a general guide to choose the size you need:
ELBOW PADS
Elbow pads cover the area from just below the shoulder pad to just above the hockey glove. They help protect against painful bone bruises, and even fractured elbows, from falls, or being hit by a stick. Most elbow pads are adjustable and are secured with Velcro straps, so sizing is general according to body size.
There are also varying numbers of straps available on different pads to help with adjustments.
To find your elbow pad size, determine the distance between the edge of your shoulder pads and the cuff of your hockey glove. The elbow pad should leave no exposed skin between the shoulder pad and the glove. The chart below is a good indicator of the elbow pad size you should buy based on the above measurement.
SHIN GUARDS
Forwards usually prefer lighter pads with less protection that allow them to skate faster, while defensemen should look for a heavier shin guard that helps protect against pucks and opponent's sticks.
Shin guards range in size from 7 to 17 inches in length and are designed to fit over the kneecap to just above the skate top. You should look for shin guards sized to your height. While sitting down, measure from the middle of your kneecap to the top of your skate, and then use the chart below to find your size based on the above measurement.
GLOVES
Hockey gloves protect the hand and wrist, but help players maintain critical flexibility and comfort on the ice. Traditional gloves have all-leather construction, but modern versions incorporate Kevlar and nylon for better strength and durability. Gloves can be a little big, as long as the padding covers all areas of the hand and wrist.
Gloves range from youth sizes of about 9 inches up to full adult sizes of 16 inches. Use a tape measure to measure the distance from where your elbow pads end to the tip of your fingers. This number equals your glove size.
The chart below is a good indicator of the glove size you should buy based on the above measurement
MOUTHGUARDS
Mouthguards either come in a pre-formed mold or as "boil and bite" mouthguards, which can be boiled and modified to your unique dental imprint. Mouthguards come in general sizes to fit youths, teenagers and adults.
Of course you'll need skates as well. Be sure to find the right hockey skates for your game and find the right fit with our hockey skates buying guide.
Now that you have all the gear you need, you're ready to suit up and take the ice for a great season. Good luck!