Introducing Your Children to Snowboarding
Keeping the learning process simple and fun for aspiring riders is key, but you also want to prepare them for whatever they may experience on the slopes.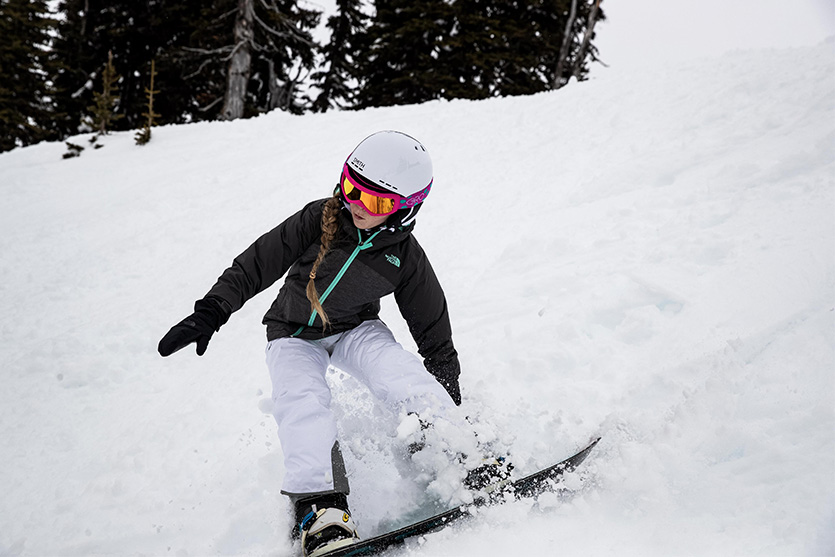 When many young boys and girls get introduced to snowboarding, they dream of shredding down a mountain freshly covered in snow or hitting a back flip off a jump. But the learning process to get there isn't always easy and doesn't happen overnight.
A LEARNING EXPERIENCE
When little ones begin to learn how to snowboard, it can be a challenge. But there are ways to make the process easier. Lessons with a qualified instructor are the quickest way to pick up skills and safety. Some children will respond better to an experienced professional explaining what to do more so than their own parent.
No matter who shares their expertise, however, make sure they keep focused on rider safety. Always err on the side of caution and take children on easier terrains at first. Avoid icy areas; locations with powder are much easier to navigate as young riders learn the ropes.
When it comes to gear, remind them to keep their bindings and boots tight. It's also crucial to stress the fact that during downtime they cannot stand or sit in the middle of a slope, as other riders or skiers could be coming down the hill. Staying alert is always imperative.
MAKE IT FUN
When not on the slopes, be sure to take breaks and play games or simply enjoy some snacks. Keeping things positive with children will help keep their interest levels high. Depending on their age, you may only be able to hold their attention for an hour or so at a time — and that's okay. Don't rush it.
Try to find ways to challenge children that will help them develop. For example, pick a place on the mountain to snowboard to. Once you get there, pick another spot. Continue this until you make it to the bottom.
Videotaping their progress can also be exciting. Showing young snowboarders how they're doing and how they've developed overtime can be a rewarding, fun experience.
DRESS THE PART
To be blunt, children are going to be on the ground and in the snow quite a bit as they get started. But by sending them out in proper snowboard attire, they'll be able to stay warm and dry.
Jackets
You'll want to look for jackets that properly fit the conditions young riders will be in. There are a variety of options to choose from. Shells are versatile, as many are waterproof, breathable and can be part of a layering system if properly sized. Insulated jackets are more appropriate for bitter cold temperatures. There are also 3-in-1 jackets available that offer an outer shell as well as a detachable liner. These jackets provide options for youngsters as they may encounter cold or warmer temperatures throughout the day.
Pants
You will want to find pants that offer protection from cold and wet conditions. Key features include waterproofing, articulated knees, boot gaiters and insulation. Venting is another popular feature, allowing the pants to dump heat and promotes air circulation.
Neck gaiters
Whether made from wool or polyester fleece, this accessory will protect a child's lower face, neck and ears from wind or sunburn.
Extra layers
Additional bottom layers like long underwear, as well as an insulating layer with tops and bottoms made of fleece or wool, is important for children to have on them to avoid being uncomfortable when they should simply be having fun.
Socks
Snowboarding socks should extend above the calf. These socks are often made of a wool blend and synthetic fibers. It's a good idea for riders to have an extra pair of socks with them just in case their feet are getting wet.
Mittens
Well-insulated, waterproof mittens or gloves are key, as riders often find themselves touching snow with their hands. A popular feature in some gloves are internal hand warmer pouches for extra warmth.
Boots
Warm, properly-fitted snowboard boots are a must for beginning riders. Boots that are too snug can lead to pinched toes and blisters; loose boots can inhibit turning. Although children may still be growing, it's important to avoid purchasing larger boots with the expectation that they will be grown into at a later time.
Goggles
Snowboarding is a visual sport, so you'll want to make sure your child can see. Goggles will help protect their vision from the sun's glare or cloudy vision. Learn more about the variety of goggles available and what kind would be best for youngsters in this guide.
It is never a bad idea to pack extra gear for a day on the slopes — having some warm, dry clothes to change into can be a welcome ending to an exciting adventure. To that end, there are a variety of bags and backpacks designed to keep clothing and gear separate from boots.
PROTECTION COUNTS
Don't forget the necessary equipment to keep young riders safe on the slopes. Falling is part of learning how to snowboard, so make sure children are equipped with the right protective gear.
Helmet
Helmets should fit snug, but comfortably. For a more custom fit, adjust the straps for proper fit. Our snowboard helmet application guide shows how to make sure helmets fit just right.
Some helmets have detachable ear pads and liners for added warmth. There should be an attachment or strap on back of the helmet to secure goggles.
Knee Pads and Elbow Pads
Other accessories donned to protect young riders from falls are knee and elbow pads. There are two varieties to choose from. The first comes with a hard-shelled cap that offers more cushion for impact. The second comes with softshell caps that allow for more movement, but offer less protection than the hard-shelled option.
Wrist guards
Some gloves come with wrist guards built in, but they can also be purchased separately. While the guards could help during falls, riders should practice making a fist as they go down.
BOARD SIZE
As children learn to snowboard, choosing the right kind of board is important. Starting off with a soft, all-mountain board is a good first step. As they learn to ride and their confidence grows, they then can upgrade to other models.
Buying a snowboard too large for young snowboarders can hinder their control and slow their development on the slopes. To find the correct snowboard size, use a child's weight and height and reference the chart below.
If children are between two of the heights, find their weights on the chart. If they are on the lighter side of their heights, go for boards on the shorter end. If they are on the heavy side for their heights, go with a board on the longer end.
Bindings
Manufacturers design specific bindings for younger riders to accommodate their growing feet and fit several sizes. If high-quality bindings are purchased, a pair could last several years. Remember that bindings should fit their boots and that riders can easily release and attach their bindings while wearing gloves.
Now, let's make this a snowboard season that children can remember forever.