This buying guide can help you learn about the various types of bikes available so you can make the best choice for your style and needs.
New to cycling and looking for tips for buying a bike? Start with a bike that's made for your journey. Bicycles are specially designed for specific terrains and riding conditions — from city streets to mountain trails — so think about where you plan to bike before making your selection.
Finding a bike for rough terrain doesn't have to be, to coin a phrase, a difficult mountain to climb.

Mountain bikes are built to withstand frequent use and rough riding so you can cycle through the backcountry. Heavier than road and hybrid bikes, they are fitted with large tires that have deeper tread patterns to help add stability and comfort to the rigors of trail riding. Other key features of mountain bikes include:
Stable and forward riding position
A wide variety of gears to give you options for pedaling uphill, through mud and over rough terrain
Brakes with extra clearance to help reduce mud and debris build-up and provide stopping power in various conditions
SUSPENSION
Many mountain bikes also have a front suspension system built into the fork and/or a suspension frame with large, knobby tires. However, rear suspension is becoming more common and suspension can help increase comfort while also improving control over rough ground.
Front suspension bikes are best for riders who spend most of their time off-road, but also may venture onto bike paths or packed dirt roads and trails. Typical mountain bikes with a front suspension will have 80mm to 100mm of suspension travel.
Full-suspension cross-country models are for serious, off-road riding and more experienced riders. Typical full suspension cross-country or trail bikes will typically have between 100mm to 120mm of front and rear suspension travel.
Full-suspension bikes can provide agility and comfort even in rugged conditions.
Whether you're looking for a bike for cardio, commuting or casual competition, road bikes are constructed for smoothly paved surfaces. However, they are not best to carry heavy loads over extended distances. Road bikes typically feature:
Curved or drop bar handlebar designs to offer the rider multiple hand positions
Lightweight frames and construction to help aid in climbing and acceleration
Seating and handlebar positions that can enhance speed and aerodynamics
Gear systems designed for on-road efficiency and maintaining higher speeds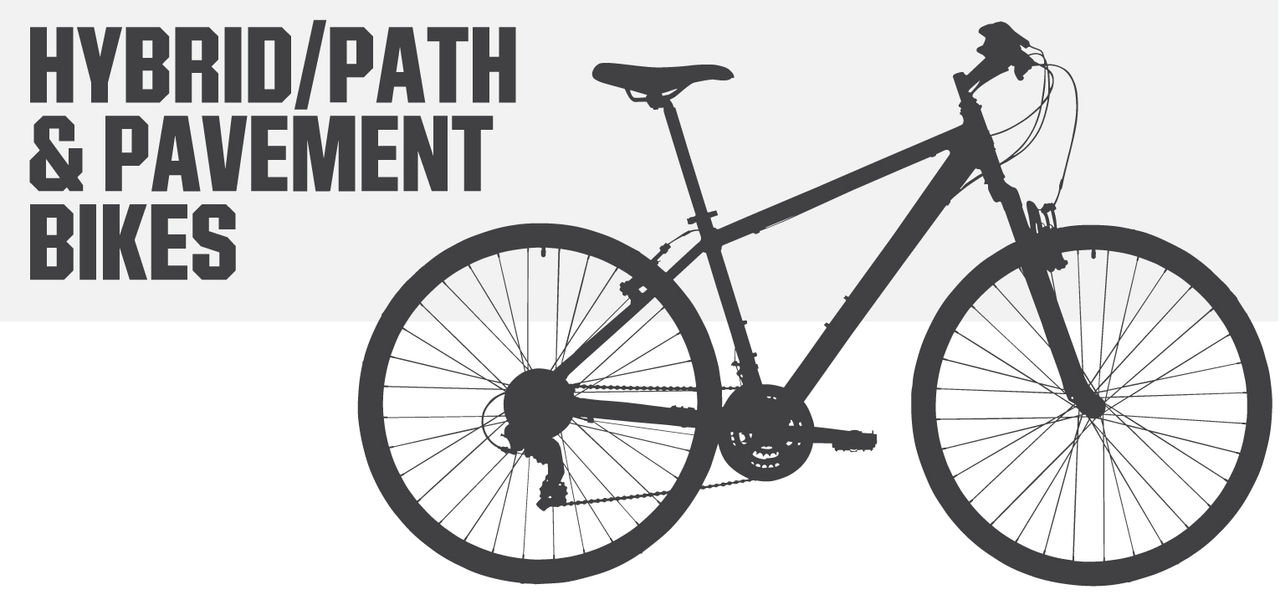 Rugged like a mountain bike, but lightweight like a road bike, hybrids — also sometimes referred to as path and pavement bikes — offer the best of both worlds. These bikes are ideal for those who plan on riding on multiple types of terrain, including bike paths and streets, for casual rides or commutes. Hybrid bikes typically feature:
A more cushioned saddle
Multiple speeds and gears for riders who plan to use their bikes in different environments
Flat, upright handlebars for a relaxed riding position and control on the road
Wider tires than road bikes with a subtle tread pattern to offer a mix of stability and traction on a variety of surfaces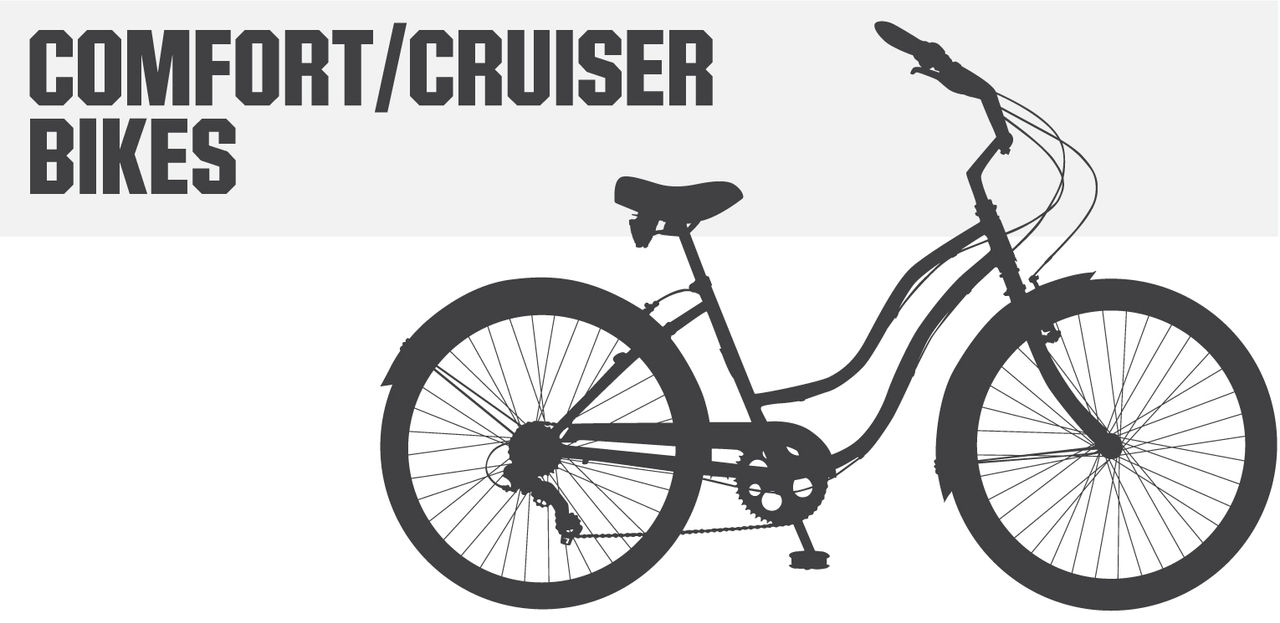 Comfort and cruiser bikes are both good for casual, everyday riding, but the right type for you depends on where you ride and the level of ease you prefer. Both types of bikes offer:
High handlebar placement for a more relaxed riding position
Classically styled frames designed for a smooth and comfortable ride
Oversized and well-padded seats
A simple gear system
COMFORT BIKES
Designed for leisure riding for long periods of time, comfort bikes are ideal for older riders looking for a bicycle that will allow them to ride on pavements and paths alike while being easy on the joints. Comfort bicycles usually feature:
Lightweight, aluminum frames
Frames that support an upright riding position to provide optimal comfort
21 speeds and a front suspension
High shock absorption and smooth-riding tires.
Adjustable handlebar stems and contoured grips in some styles
CRUISER BIKES
Ideal for riding around on the boardwalk or campground trails, cruiser bikes allow you to show your personality with their vintage-inspired design. Other key features include:
Thick, balloon tires and hand or coaster brakes
Heavy construction (typically a steel frame)
1, 3 or 7 speeds
The ability to add baskets, bottle holders or racks on most frames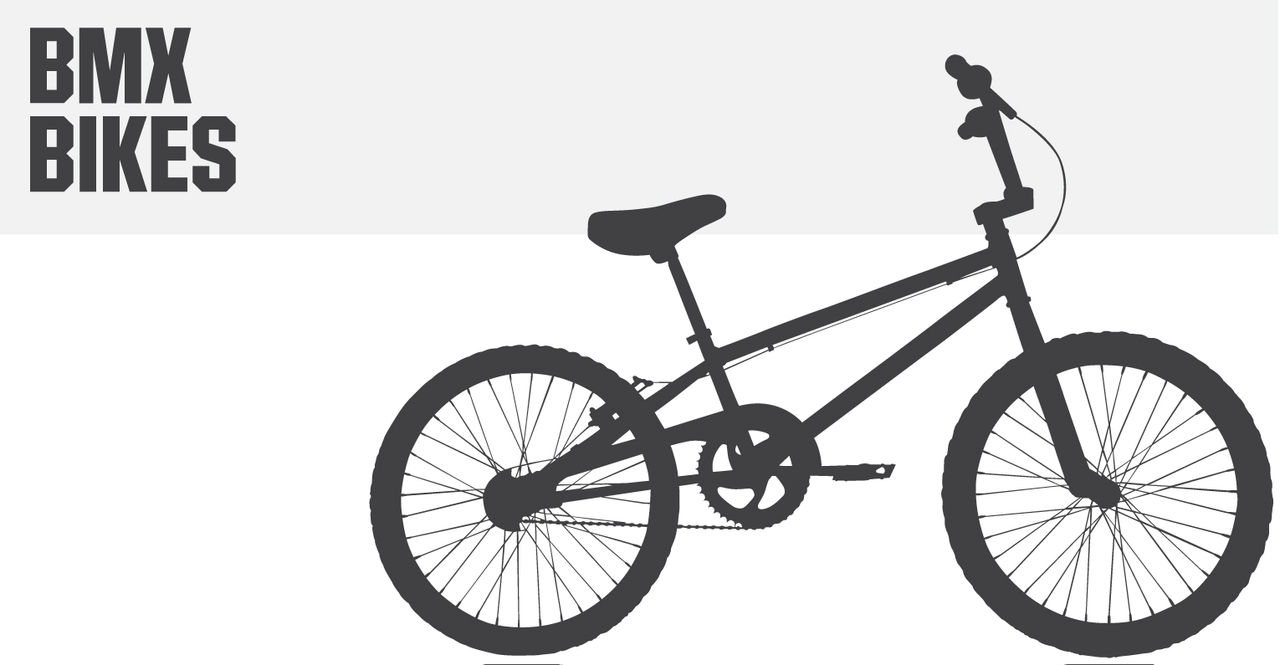 If you're more into tricks than trails, a BMX bike may be the right model for you. Fast, agile and versatile for obstacle courses, BMX bikes are built to hold up to the pressure of ramp riding, flat land and dirt jumping. Other elements of BMX bikes include:
Single-speed designs with reinforced frames
Select styles with brake rotors and pegs
The ability to ride on a variety of surfaces
Compact and agile frames for maneuverability
From the boardwalk to the backcountry, there's a bike made for where you want to ride. Now that you're geared with the knowledge of how to choose the right bike, you can get ready to ride.
Once you have a style that's right for you, learn how to find the right size bike with our Pro Tips sizing guide.