Tips for Setting up the Inside of Your Tent
It's what's on the inside that counts. Follow these Pro Tips to give your camping tent's interior a functional layout filled with comfort and accessibility.
Setting up a well-organized campsite is all in the details. Chairs go in their own area. Shoes have their specific place. Your camping kitchen is set just so. Don't let your tent's interior falter by becoming a cluttered mess. Organize your sleeping arrangements and gear so that your inside area is both a welcoming and working environment.
There are a number of tricks to help you utilize your tent's interior space so that your gear is stored properly and you can be comfortable during your entire stay. You can even add some décor and lighting to make your tent feel more like home. Follow these helpful tips and deck out your inside camping conditions.
ARRANGE EARLY, REST EASY
Sure, you might think that your sleeping bag, pillow and other nighttime supplies can wait until you're ready for bed, but having all of your gear ready to go can really make for an easier bedtime, meaning more rest before your next day of adventure. So unpack your sleeping gear immediately after the tent has been set up. Place sleeping pads as close to an exterior wall as possible. Arrange everyone's sleeping pad or cot in a way that allows for the clearest walkway. If you wake up in the middle of the night, the last thing you want is to disturb someone else's sleep with an unfortunately misplaced step.
Once everyone's sleeping pads and/or cots are in place, you can pile on sleeping bags, pillows and extra blankets. Make sure everyone's gear ends up on their pad. This organization will allow everyone's equipment to air out through the day and will eliminate any late-night scavenging for blankets or other sleeping necessities. Doing this can also allow for any down sleeping bags or quilts to sit and regain their fluff for maximum comfort before nightfall.
PACK PLACEMENT AND GEAR STORAGE
Many tent models feature gear loops and pockets built into their structure to house some equipment. These can be useful when you need to keep track of your items, but they are also helpful in keeping equipment up off the ground where colder temperatures or an errant step might be hazardous. Use these pockets and holders to their utmost potential to keep items like power packs, water bottles, gloves, hats and other gear organized.
Keeping your backpack close can be a good habit to get into as well. Not only does it keep your gear out of the elements, it also keeps extra layers and any other items you may need afterhours at hand.  Make sure the pack openings face your sleeping bag for easier access. That way, you won't be fumbling around your tent waking everyone else if you need a quick extra layer during the night.
PRO TIP: To prepare for colder nights when you think you might need extra layers, place your additional clothes in your sleeping bag with you. When you go to throw on your additional clothes, they should be warm and toasty from your body heat. Don't worry about wrinkles. After all, you're camping, right?
You should also try to give your pack a bit of space from the wall. This can help limit any condensation buildup that might occur if weather conditions change through the night.
PRO TIP: If you plan to sleep on a cot instead of a pad, you can store your pack underneath, provided that the area beneath the cot accommodates your pack height.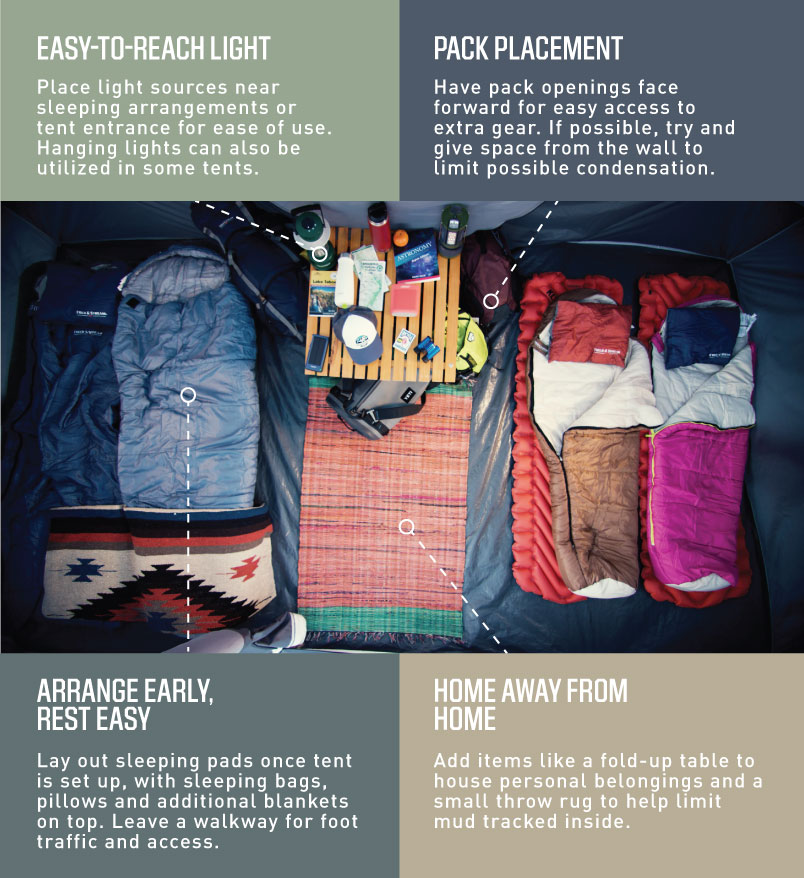 LIGHTS AND HOME GOODS
While your campsite should be an escape from the everyday, there is no problem with bringing a piece of home with you. Consider setting up your tent's interior with flashes of décor and lighting.
When putting lights in your tent, try to have them near sleeping pads or the tent's entrance so they can be quickly turned on before moving around. If possible, hang your lights, provided that your tent has the proper structure for overhead lighting. Make sure to monitor when your light sources are on during your trip and to keep the tent entrance shut when they're running. Light can potentially attract insects to your space, and few things are as annoying as a bug flying around in your tent while you're trying to sleep.
You can also add a small fold-up table to your camping tent's interior for an additional storage platform. Serving as a makeshift nightstand, this tiny table can house all of your personal items, extra light sources like a flashlight, and other small accessories. Fold-up tables are also great for keeping electronic devices off the tent floor and in a safe place.
While shoes should be stored outside of your tent during the night to limit tracking dirt and general messiness, you can't expect to remove your shoes every time you enter for something. To help keep your tent floor free of debris and mud, place a small throw rug between your sleeping arrangements. This can help limit the amount of mud you might track in and make cleanup much easier when it's time to pack up. Keep things even cleaner by laying down a welcome mat at the entrance of your tent to wipe your shoes off before entering the tent (a car floor mat can also do the trick). The welcome mat can also be a great storage hub for your boots at bedtime.
These tent interior tips can make for a welcoming atmosphere that functions as great as it looks. Follow these guidelines for your next camping trip and bring a little home-style charm to your campsite getaway.