What to Know About High-Visibility Golf Balls
Keep your eye on the ball with these luminous colors and designs the next time you hit the course.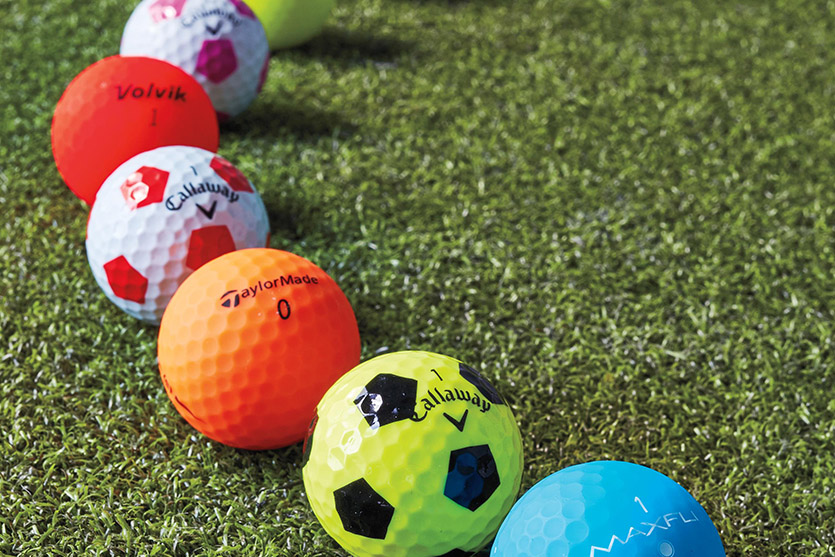 You step up to the tee and prepare to hit a long drive on a challenging hole at your favorite golf course. You steady your breathing, clear your mind and execute a textbook swing to send the ball soaring.
One second you have your eyes on the ball, and the next it's lost in the glaring light of the sun. Your ball is somewhere in the hundreds of yards of terrain in front of you. But where?
It's a situation most golfers have experienced. So, instead of taking a mulligan on a wayward shot, consider this Pro Tip and try using high-visibility golf balls to help you find your way.
WHAT ARE HIGH-VISIBILITY BALLS?
High-visibility golf balls feature the same construction as the standard white golf ball, but they come in a variety of distinctive colors. This can help with shot tracking through various conditions and can help you distinguish your ball from those of other players.
These golf balls can be easier to keep track of through the air and find after they land. Whether the day is filled with sunshine or clouds, the right colored ball can help you concentrate on the most important color on the course — the green.
High-visibility golf balls are available in a variety of colors such as red, blue, yellow, orange, pink and green and are made to help you keep track of the ball no matter if it lands on the fairway, the rough or in a sand trap.
Multi-colored patterns are also available, as are neon options, which can come in neon green, orange, pink, yellow, blue or red. Matte finishes can also help golf balls stand out, because their finish takes away the sheen of the golf ball, which can make it easier to see in the sunlight. There are a variety of colors available in the matte finish, too.
IMPROVED SHOT TRACKING IN VARIOUS CONDITIONS
Using a high-visibility golf ball can also help you keep track of your shot in less than favorable conditions. Hitting the course during the winter when weather can be an issue? A red, yellow or orange ball model help your ball stand out against the snow and won't leave your game out in the cold.
Playing as the sun is going down? Yellow golf balls can be a particularly easy color to spot when teeing off in the evening. You can also find illuminated LED golf balls that are made to shine on a dark course. These electronically lighted balls are designed to activate on impact and can typically stay lit for almost 10 minutes to help you track them down even easier.
The wrong color can also have an impact on your game. For example, blue golf balls can get lost in the sky on days with little cloud cover, while orange golf balls can be difficult to spot in the fall if there are leaves on the ground.
EXPRESS YOURSELF
Some golfers take a lot of pride in what they wear on the course. Why shouldn't you have the same feeling about the gear you use? Your golf ball color can be part of your personal expression and identity on the course. You can even personalize your golf balls with your name, monogram or a favorite saying.
By adding high-visibility balls to your golf bag the next time you hit the links, you can keep a better eye on every chip, drive and putt.