Golf Rangefinders vs. Golf GPS
Golf rangefinders and GPS units might just be your secret weapon on the course.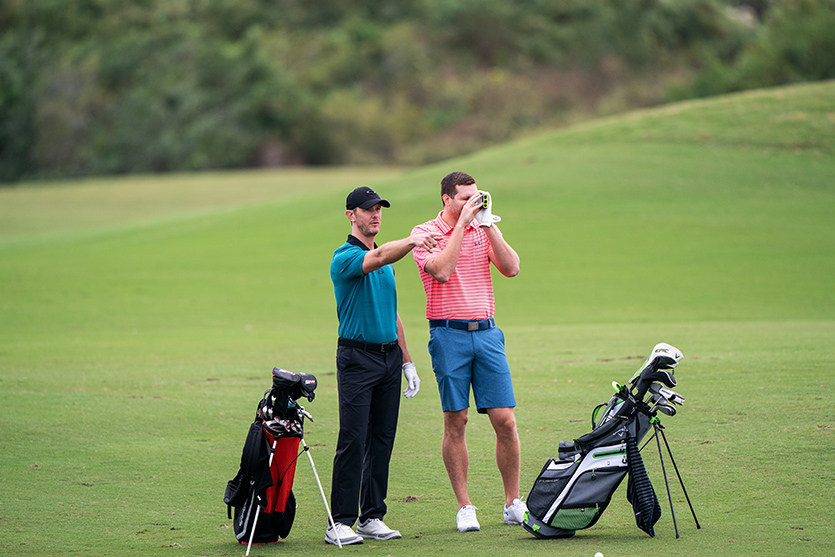 You want to make sure you have the right tools to help improve your golf game, but it can be difficult to keep up with everchanging technologies. The two prevalent golf technologies used today are golf rangefinders and golf GPS devices.
These devices can provide valuable information such as distance, obstacles and statistics analysis. How do they differ, though? Learn how these tools can provide you with powerful data to assist the next time you hit the course.
ABOUT GOLF RANGEFINDERS 
Laser golf rangefinders let you survey critical shots, enhancing accuracy so you can take strokes off your score. So, how do golf rangefinders work?


They emit a laser, which bounces off the object that you're aiming to hit — the pin, for example.
Then, they measure the amount of time it takes for the laser to return to the rangefinder.
Using this data, they quickly calculate distance to the target object and deliver it to your display screen.
These simple devices can have a big impact on your game, providing you with accurate yardage to specific targets. Most golf rangefinders come with features including course slope (technology not approved for competition by the United States Golf Association), maximum range and minimum range.
Advanced golf rangefinders come with a variety of extra features, like magnification and pin-seeking. Sleek, shock-resistant and weatherproof constructions make rangefinders a good option for many conditions too.
ABOUT GOLF GPS DEVICES 
You're probably pretty familiar with GPS technology in your day-to-day life. Global positioning units use satellite receivers to calculate information on your speed and location.
In a nutshell, golf GPS units offer powerful data on distance, size and obstacles on every pin and around every lie. These gadgets give you a glimpse of the front, center and back of the green. Playing a hilly course? Your GPS unit helps spot hazards ahead — so you can plan your shot accordingly.
In addition, most GPS units come with easy-to-read displays, digital scorecards and statistics analysis. Like rangefinders, they're largely lightweight, compact and weather-resistant. For hands-free convenience, try a wristwatch golf GPS. If you'd like a larger display screen, you should opt for a hand-held golf GPS device.
SO, THE QUESTION: GOLF RANGEFINDERS OR GOLF GPS? 


Know your way around a smartphone or a point-and-shoot camera? Then you can probably operate a golf rangefinder. GPS units may require you to download and install a database on a particular course and may need some additional set-up before you're ready to hit the links. Both rangefinders and GPS units have become exceptionally user-friendly over the years.
Though the technology has improved, some laser rangefinders have a difficult time calculating over sand, water and through rain.
Again, slope and elevation measurements provided by some rangefinders are technically illegal under USGA rules.
Keep in mind, capabilities and golf technology can vary by product. For more information, always consult your product's information.