How to Pack Your Fishing Kayak
Discover the essential gear needed and how to outfit your kayak for a successful fishing trip.
Spend one afternoon on the water in a fishing kayak and you can easily see why they are so popular with anglers. They are stealthy, durable and can get into far-off fishing holes that you simply wouldn't have access to in a normal boat or on foot.
"With a boat, there's insurance, there's gas, there's trailering, storage, maintenance and everything else," says DICK'S Sporting Goods Senior Fishing Buyer and experienced kayak fisherman Shane Edgar. "With kayak fishing, you just have a plastic boat. You don't have these extra expenses, and that's one of the biggest benefits."
Although it may be simplier than a boat, launching your kayak without any preparation could land you in hot water. Without the right vessel setup and fishing equipment, the only thing you can plan on catching is a bad experience. In order to be prepared and equipped for landing the big one, it's essential that you know how to outfit your kayak and understand what gear is necessary for a great fishing experience.
WHICH KAYAK SHOULD I CHOOSE FOR FISHING?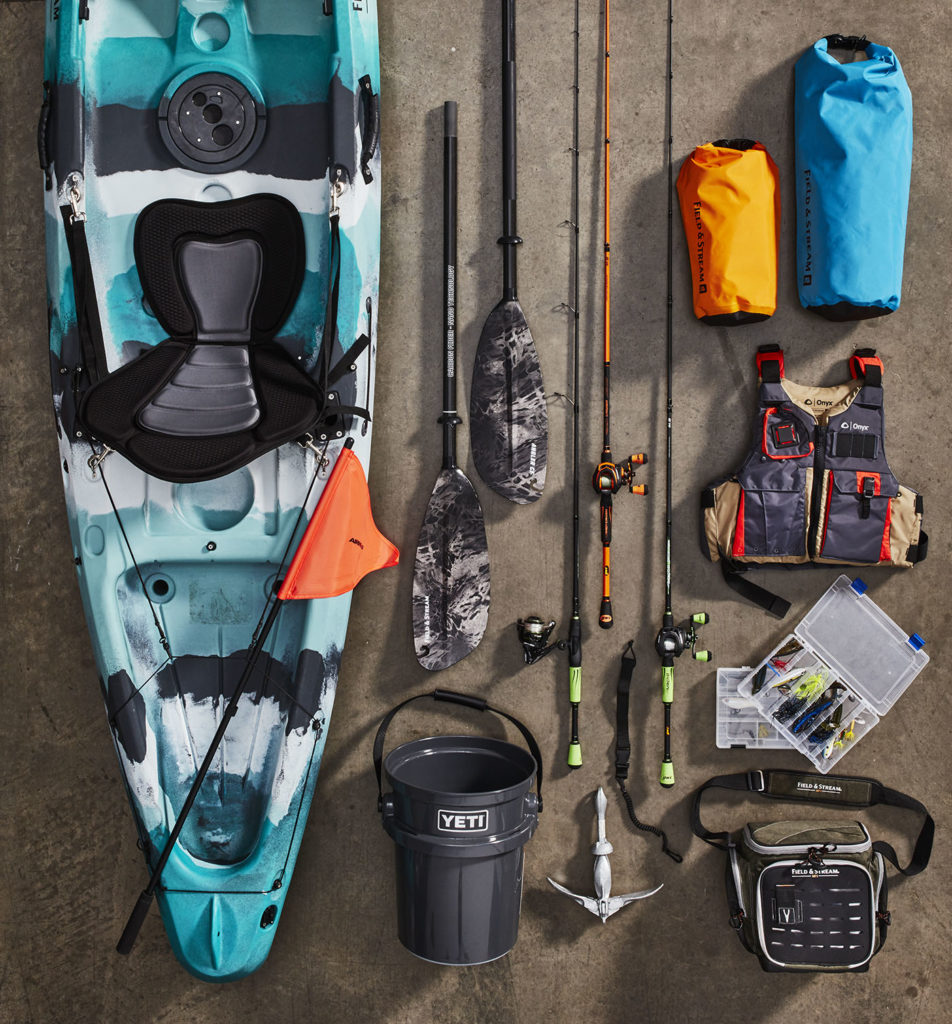 Before you even dive into your fishing gear and start to arrange your tackle for that perfect setup, you should look and see if your kayak is fit for your needs. So, which is the best kayak for fishing? Sit-in and sit-on-top kayaks can offer different qualities to fishermen. Edgar notes that sit-on-top kayaks might be better suited for warmer temperatures because they allow for more airflow.
"I'm from Florida, and I would see people with sit-in kayaks and I would advise against them because the heat can just get trapped inside. You're essentially baking, especially if water gets in there. It's evaporating and just making it hotter than needed."
If you are unsure which design best suits your needs, consider your average weather conditions for your favorite fishing spots, as well as what might be comfortable for you and your style.
Once you have a solid understanding of which seating you would prefer, you can look at different kayak models. For fishing, you should opt for a wider vessel, as this can help when you're casting your line or reeling in your big catch. A shorter kayak might also benefit fishermen, because although shorter kayaks aren't as fast as longer ones, they can be more maneuverable in tighter channels and ponds.
Edgar notes that personal preference comes into play when picking your kayak's dimensions. "I would always tell customers, 'Your length dictates your speed and your width dictates your stability.'" For further information on the different kayaking models and designs, be sure to read the Pro Tips guide to Types of Kayaks to Choose.
Lastly, make sure that your kayak has plenty of storage space and carrying capabilities. After all, you're not only toting your kayaking gear out onto the water, you're also bringing along your fishing tackle. There are plenty of fishing-specific kayaks available that come already outfitted with rod holders, additional storage compartments and mounting hardware, but don't be distraught or think you've missed the boat if you already own a recreational kayak.
"There's a lot of aftermarket items with kayak fishing and do-it-yourself, so you can have a base-level kayak and make it your own," says Edgar. "That was one of the biggest things when I was really into [kayak fishing] – the ability to kind of rig your own kayak the way you wanted it to be."
KAYAK SAFETY GEAR FOR BOW-TO-STERN COVERAGE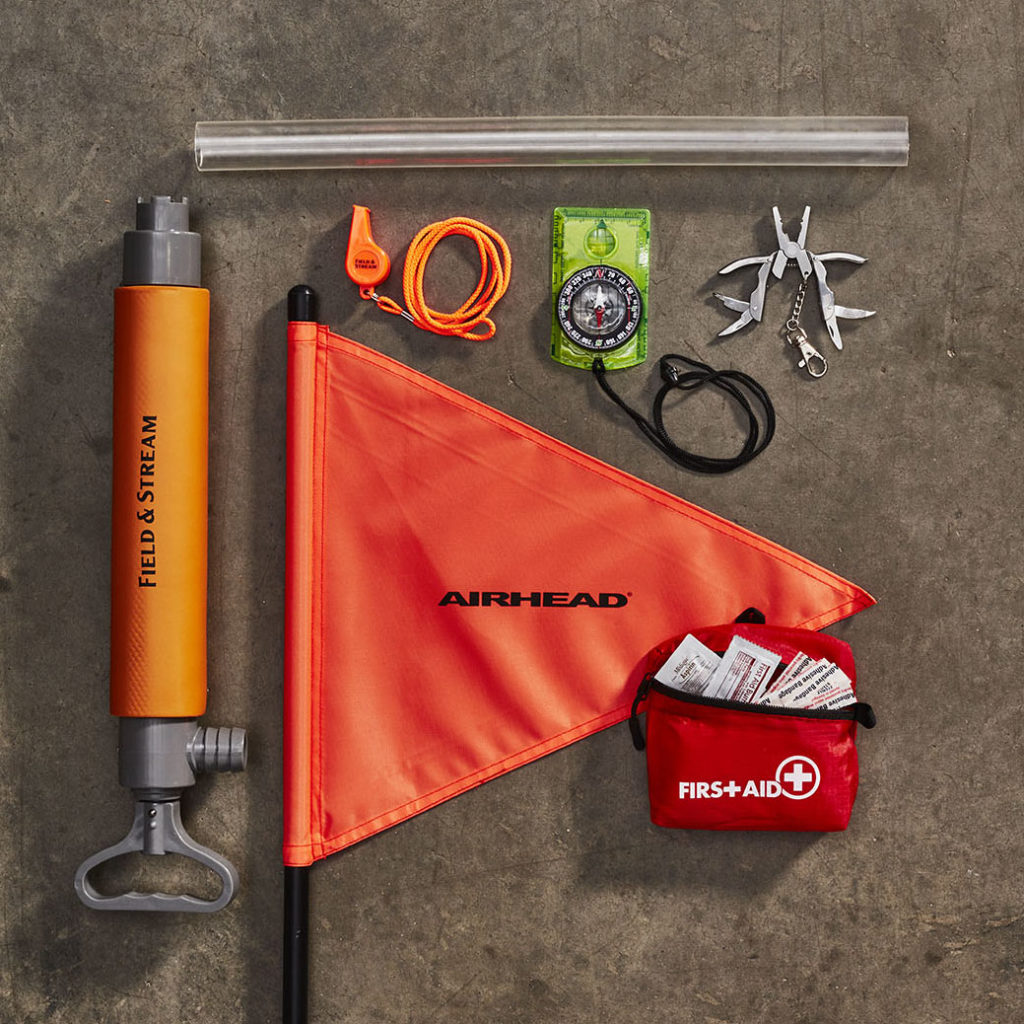 There are a few essential pieces of gear that are necessary for kayaking, whether you're paddling out for a little adventure or navigating your way to your secret fishing hotspot. Items like a paddle, personal flotation device, waterproof first-aid kit, compass, whistle, anchor and emergency paddle are all must-haves for kayak fishing. Edgar adds that a paddle leash can also be essential, "so that your paddle doesn't float away or happen to leave the kayak."
BONUS PRO TIP: Edgar notes that lighter paddles made from fiberglass or carbon can benefit anglers looking to get the most out of their equipment. While they are slightly more expensive than normal-weighted paddles, they can be less strenuous to use and can enhance endurance on the water.
You should also carry equipment that can help you in case of emergency situations. Consider carrying a sponge or pump to remove any water your kayak might take on, especially if your kayak is not self-bailing, which means it's not able to remove water through scupper holes or other means.  Some sort of signaling device can also useful in emergency situations or if you are kayaking in an area with other boaters. Mirrors, flares and even flags that you can tie to your upright fishing rod are great items for this purpose.
You should be able to fit your packable safety gear in the front hatch of your kayak. Feel free to keep your compass and whistle in the cockpit with you, as these are light and easily stored away. Always remember that, no matter what you do on the water, safety should remain at the helm.
STORAGE, GEAR AND FISHING ESSENTIALS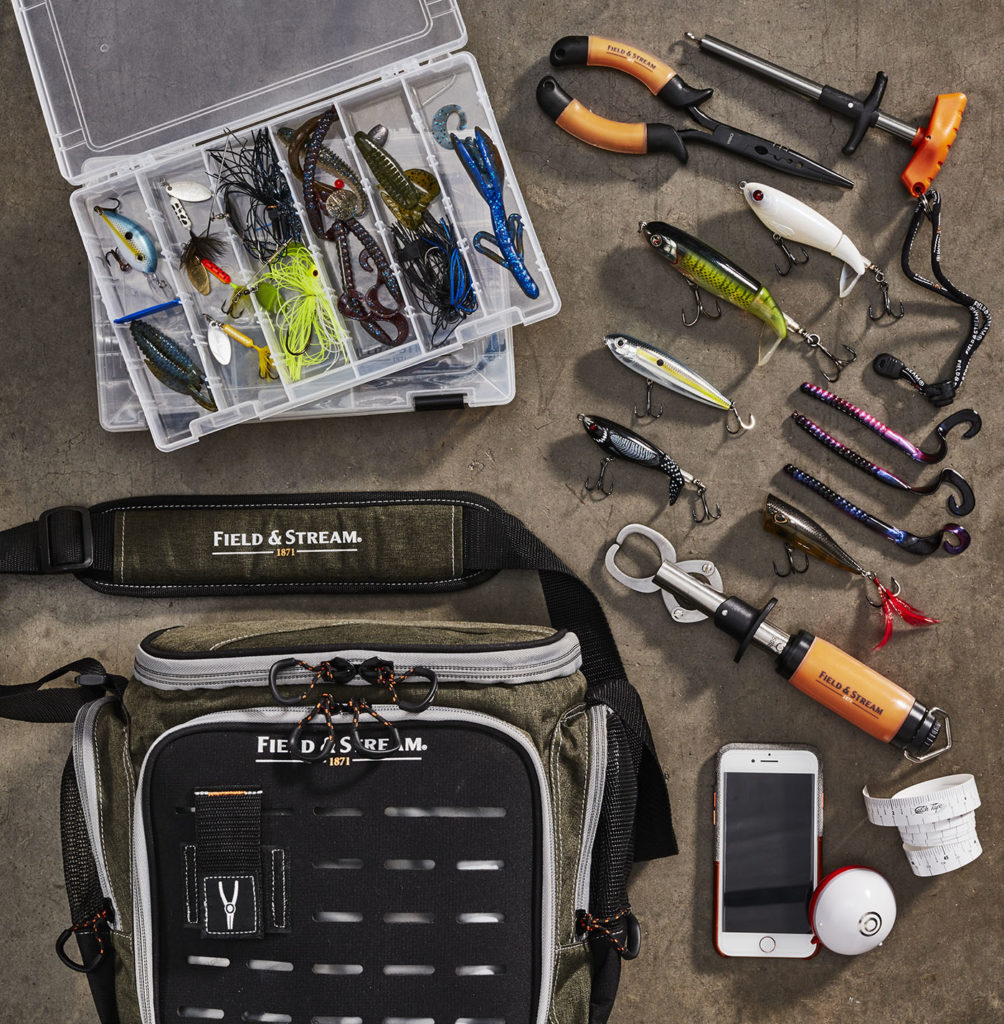 Now that you feel secure with your safety gear, you can turn your attention to rigging your kayak for top-notch fishing. If your vessel doesn't already have built-in rod holders, be sure to outfit your kayak with these invaluable assets. Many fishing kayaks also have ample storage space in the stern (the rear of the boat). This area is called the tank well, named for its original purpose of housing scuba tanks for divers.
"Most [kayaks] have a cut-out now, though, that has the mold of a five-gallon bucket," Edgar says. "So, you can use that area for live baits or for whatever tools and gear you might have." Edgar also says that plastic milk crates are commonly used in tank wells instead of five-gallon buckets.
For fishing tackle, be prepared to bring multiple rods, as well as your fishing license and a small tackle box. Fish grips, measuring tape, a stringer (if you're not practicing catch-and-release) and a hook remover are also good to carry in your kayak. All of this angling gear should be able to fit comfortably in that five-gallon bucket or milk crate.
BONUS PRO TIP: Two-piece fishing rods can be broken down into a smaller profile, which could potentially be stored in your cockpit. If you're looking to carry an extra rod but don't have an open rod holder, consider this option.
You can also take your setup into the 21st century with some fishing tech gear. Fishfinders and cameras can be easily attached with add-on mounts and make great digital additions to any rig. You can even add a kayak light — an electronic beacon that can alert others of your boat in darker conditions. Keep in mind, however, that some electronics are going to require extra wiring, as well as a battery. This can add weight to your kayak and lessen your storage space, so plan accordingly and consider your options.
Edgar adds that electronics are becoming much more popular in kayak setups, despite the storage and weight concerns. "There are fishfinders that can connect to Bluetooth so you don't have to use as much space with transducers and 12-volt batteries and things like that," he says. "There are a couple of companies that also have castable fishfinders where you can cast out the beacon and reel it back as it pings the bottom of the lake or ocean floor to see where things are."
A FINAL NOTE ON PERSONAL ITEMS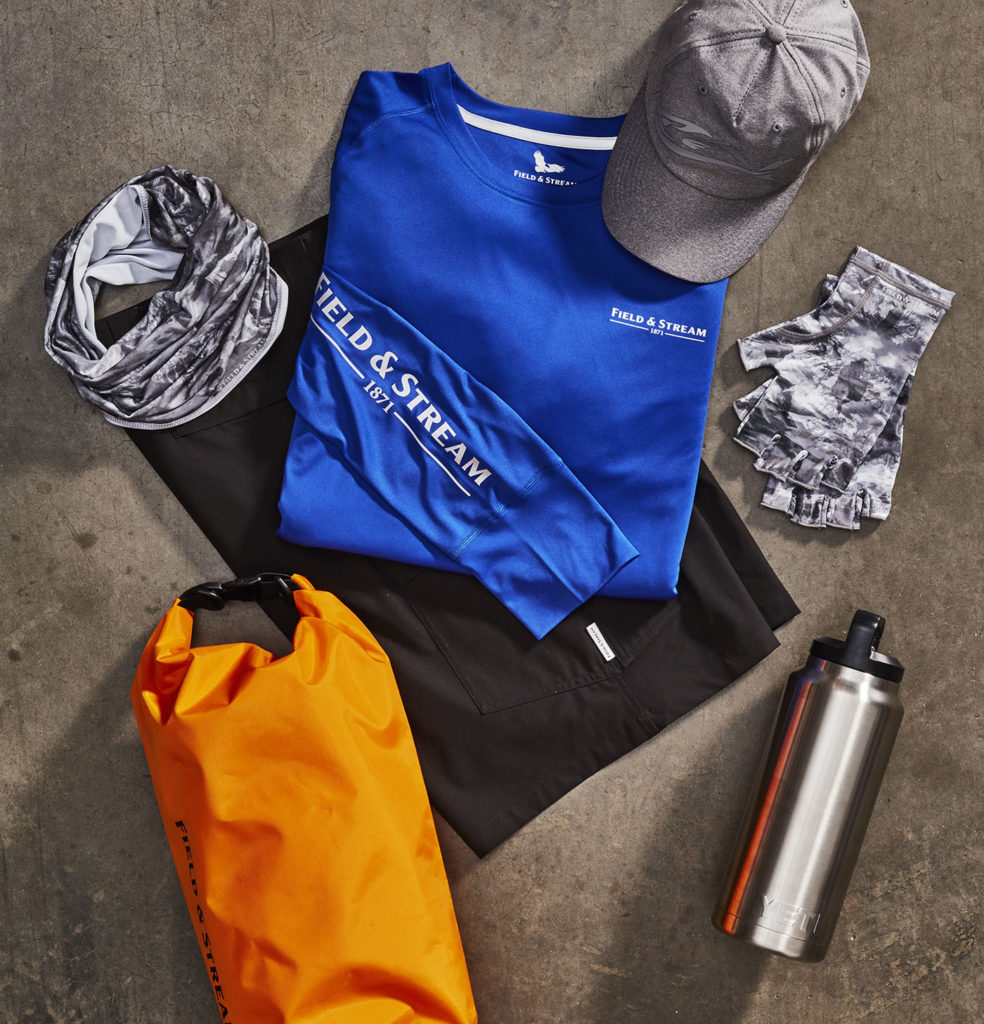 It's always nice to pack a few extra layers or an additional fishing shirt in case of changing temperatures, and you would surely want to carry your phone for those classic #catchoftheday selfies. In order to safely and efficiently pack your personal belongings and apparel, Edgar suggests placing them in outdoor-ready, easily packable storage that will protect them from the water.
"Everything gets wet when you're out there on a kayak, so I recommend dry bags for clothing or whatever gear you prefer. And one of those waterproof hard cases is usually good for keys, a wallet, a cell phone and other small stuff like that."
A small bag carrying your phone and keys can be placed comfortably in the cockpit. Dry bags can be strapped along the side of the kayak for easy access, too. Additional storage can be placed in the front hatch or at extra rigging points along the kayak.
Don't forget to combat the sun, too, with a shady fishing hat, sunscreen and a few refreshments to quench your thirst.
It doesn't take much to make kayak fishing an enjoyable experience, but to get the most out of your nautical adventures, while also keeping safety in mind, it helps to "tackle your tackle" with some planning. Paddle your way to your next big fishing story and sink your hook into these kayak-packing Pro Tips.