The Pro Tips Golf Checklist
Gear up for the green and discover the tools you'll need with this guide to golf apparel and accessories.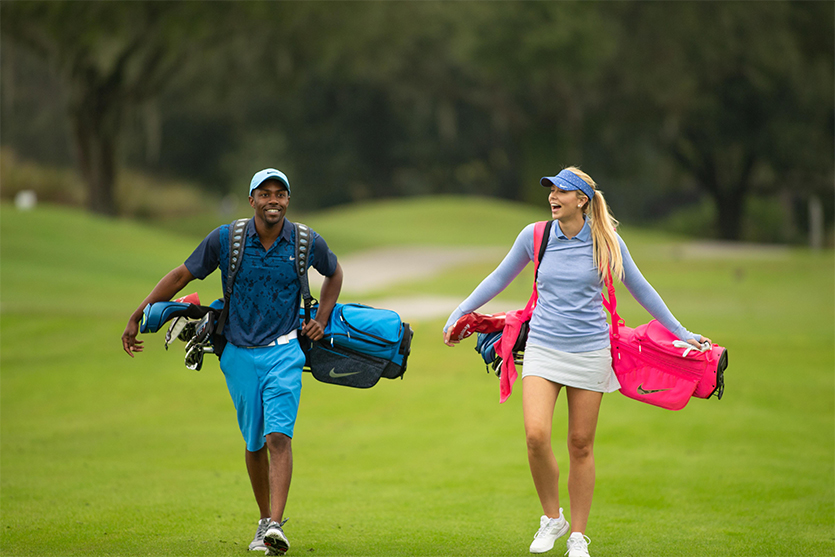 Most golfers will likely never turn down the opportunity to play a round. But if they don't come to the course with the right gear, their game can suffer.
If you think you're ready to join the ranks of devoted golfers everywhere, you'll need to come equipped with the equipment and accessories that can make each round successful. Which is why DICK'S Pro Tips is here with a checklist that can help make sure you have all the golf gear you need when you hit the links and beyond.
The first thing you need is a set of clubs. There is a world of golf clubs available: drivers, irons, fairway woods, hybrids and putters. The options can be overwhelming, especially for beginners. The best bet for new golfers is to buy a complete set that comes with the clubs you'll need to play a round. As you get more experience, you'll be able to personalize your set.
You should also consider being fitted for a set. Customizing clubs for your body and swing can help achieve consistency and accuracy. Our Golf Service PROS can help find the optimal set makeup, loft angle, lie angle, shaft type, shaft length, grip size and more.
After finding the right clubs, adding golf grips can help improve the way you handle them. And don't forget a golf bag to transport your clubs from hole to hole.
Inside your bag should be the items you'll need to complete a full 18 holes. Must-haves include tees and golf balls. While most think of the standard white balls, high visibility golf balls have become a popular option. A divot tool repairs ball marks when you hit a shot onto the green. If your bag doesn't come with a rain hood, consider picking one up to help keep your clubs dry if rain is in the forecast.
Using a GPS device or rangefinder can help deliver information about your favorite course. A rangefinder can deliver accurate yardage to specific targets, while a GPS device offers data on distance, size and obstacles of the course ahead.
When getting ready to hit the links, you'll want to make sure to dress the part. There should be an etiquette to your apparel, as many courses have a dress code (check with your course in advance). Men will often need to wear collared shirts with long pants or dress shorts. Women, meanwhile, may be required to wear shirts with or without a collar, with long pants, capris or a golf skirt. Both men and women can wear visors or baseball-style hats.
You may also need to wear golf shoes. Learn whether spiked or spikeless golf shoes are best for you with our Pro Tips guide.
As you play more frequently, you might start getting more serious and want to improve your skills. There are golf training aids that can help enhance almost every aspect of your game. Some popular aids include swing analyzers and trainers, chipping and hitting nets, and putting mats. Also, headphones or Bluetooth speakers can help get you in the zone when you're at the range.
For many, there is nothing better than spending a day at the course. By arriving with all the right gear, you'll be ready to focus on your game and leave your worries behind.
*Click checklist to download and print